So I've been waiting for PCBs since christmas before I could continue building the Asity prototype. My first batch was ordered from BatchPCB and arrived a few weeks ago. Unfortunatly I couldn't use these for a number of reasons.
Firstly, the quality of the boards left a bit to be desired. The solder mask was misaligned slightly and was often missing between the fine pitch pins of the FPGA. The hot air level finish was also a bit on the bumpy side, and missing from some pads. These would be ok for larger designs, but fine pitch work is hard enough already so I didn't risk it. I've used BatchPCB for two layer boards a few times and had no issues, but I don't think I'll use their four layer service again.
Second; the gerbers I sent to be manufactured had a bug in them which shorted one of my power rails to ground. I tracked this down to a bug in Altium, which was quite disturbing. It has been fixed in version 10.
The last issue was my own fault. The footprint for my main power regulator was flipped causing me to kick myself repeatedly.
So I fixed my designs and added a few changes I had decided on during the wait and sent off another order; this time to EastPCB in China. Their website reeks of template and does seem a little ameturish but their quote was significantly below any other manufacturer, so I decided to give them ago. After two weeks, the boards arrived yesterday and I'm thrilled with how well they turned out. I chose an immersion tin finish which is much neater than the hot air level on the last boards. The solder mask is perfect on both sides and a much sexier black instead of the standard green. As a bonus, they didn't remove any of the letters on my overlay unlike some others… It's nice to have the rev number printed on the boards. On top of all this the order came back with a full test report and cross section sample taken from my production run.
I spent this afternoon assembling one board. I haven't made it easy on myself with the spacing between components, but I'm confident it can all be done on a frying pan. It will just require a few bakes to get all the parts on. The power supply and watchdog went on today and everything is working perfectly which I'm thrilled about. At least now I know that if there are other issues on the board, they will be isolated to a particular component and I can still use the rest.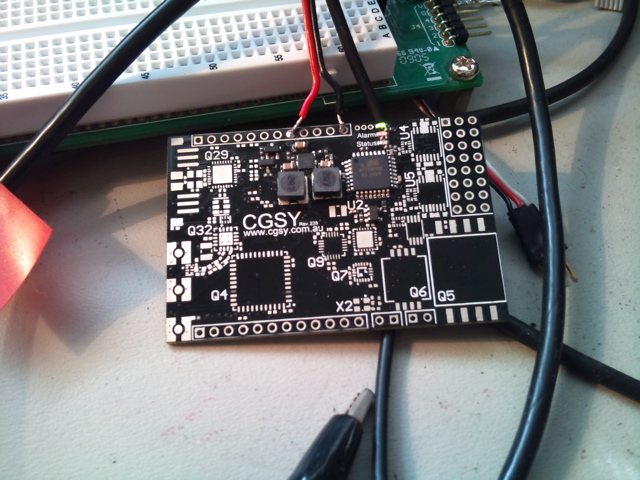 Turns out I ordered ADCs with the wrong footprint so I'll have to take a break while I wait for new ones to arrive. Hopefully I'll have it completed by the end of next week.