It Flies! After a bit of foul weather recently we lowered our standards and took the Paprika for it's maiden flight this afternoon. The sky was a little grey and there was a stiff breeze about, but at least there were no hailstones.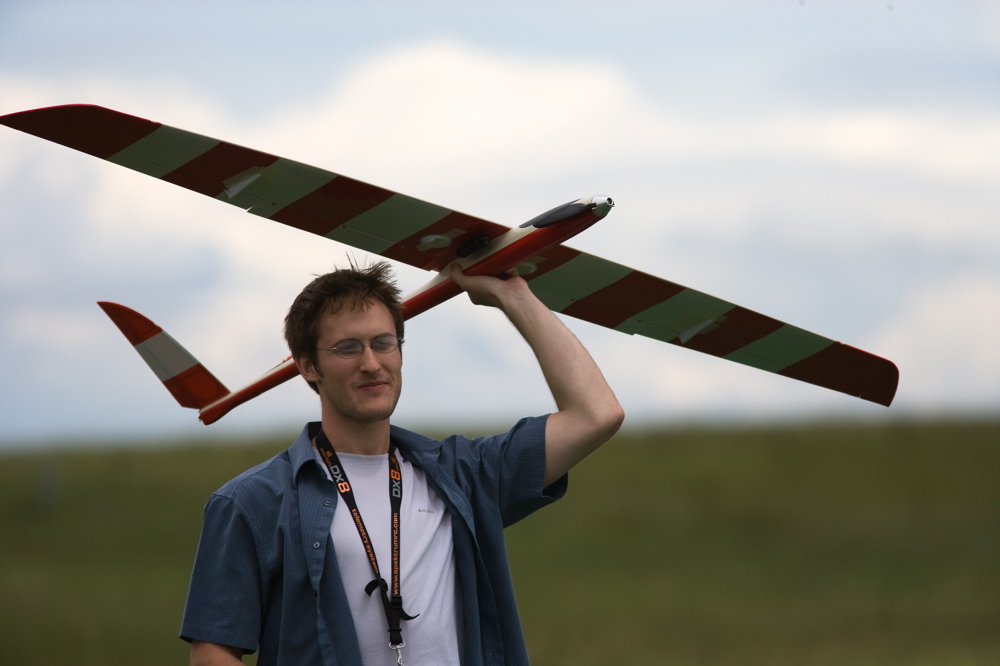 After a last minute check of the surface trims and the flight modes I had set up followed by about 10 minutes staring at the sky and observing the wind to look for an excuse not to hurl my fragile pile of work into it, I was ready(-ish). With a short sprint down the runway, my supervisor did the hurling as I waited for the moment I had control.
The initial climb was as expected in that it went up in a less than straight line. The first thing I noticed was the sheer power I had available. It easily climbed vertically at about one third throttle.
After gaining some altitude, I levelled off to assess the balance and trim,quickly realising that it was far from perfect. The paprika wanted to pitch the nose up all the time which lead to repeated stalls, stalls that I would not call graceful. So half the flight was spent helplessly tumbling out of control. This was were the excessive power I had came in handy. A short burst of throttle would pull this aircraft out of any tumble with ease giving me back control.
This aircraft takes far more concentration than the Hurricane40D I've been flying so far. So much in fact that I didn't dare move my thumbs from the joysticks to adjust the trim as it would almost instantly try to backflip.
Eventually one tumble took me so close to the ground that I decided to cut my losses, level out and ditch into the long grass.
I was hoping to catch this flight on video from the plane itself and had attached a small camera under one wing. Unfortunately I interpreted it's blinking LEDs exactly wrong and ended up turning it off just before the flight, and back on again when it was back on the ground.
I was also expecting some useful data out of the ESC (Electronic Speed Controller) regarding the motor's performance but I only have a couple of flat plots consistent with it sitting there doing nothing, which I'm guessing means I need to clear it before each flight.
I guess I'll just have to fly it again.
Overall the experience was quite exciting and I was certainly shaking at the end of it. The aircraft is still in one piece, which classifies a successful landing despite collecting a few grass seeds. It is a completely different beast from the Hurricane40D and there will be a few more exciting flights before I have it under control.
Thanks to Uwe, Florian and Pat for their work behind the cameras. I'll add more of their handy work to this post as it comes to me.