Motorized Pan/Tilt mount for antenna tracking and similar applications.
Status: Prototype
Updated: 12 June 2011
Description
This Pan/Tilt mount was designed for active antenna tracking in Unmanned/FPV Aerial Vehicle applications.  It is expected to be able to swing two, high-gain yagi antennas; weighing approximately 5kg.  Other designs that are capable of this load are substantially over spec'd and therefore prohibitively expensive for hobbyist and research applications.
This design is intended to be a cheap yet functional mount to suit the needs of hobbyist FPV pilots and research teams working with UAVs.
Specifications
All values are only estimates while product is still in development
Maximum Holding Torque - up to 0.89 N.m (126 oz.inch) Symmetrical Axes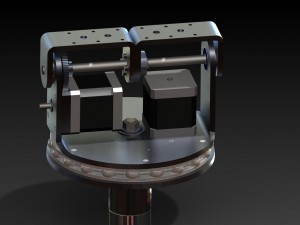 Angular Resolution - 1 to 0.0625 degrees (Higher resolution is available at a reduced torque)
Range of Motion - Continuous pan, 180 degree tilt.
Interface - 6 wire data (Step, Direction & Limit Switch for each Axis) + 5V and GND.
Operating Power - 12 V (current TBA)
Material - Steel
Base Diameter - 150 mm
Height - ~120 mm
Weight - 3.5 Kg
If you would like more information please feel free to contact me: